Paisley Ontario
Beef Fest, main street shops, Canoing the Saugeen
Paisley Ontario is one of the towns that we are always driving through on the way to our cottage.
And it has evolved over the years from a "lets just drive through and get to the cottage" town to somewhere we would stop for baked goods or drive to for the quaint shops, yearly events and to canoe the Saugeen River.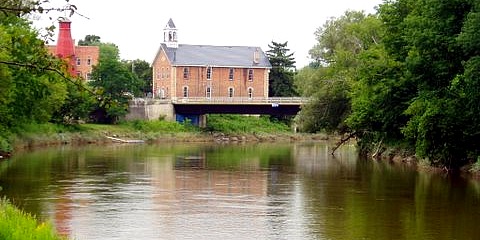 We started stopping in Paisley on our way through to Southampton when a number of shops relocated from Elora.
We would stop at Dos Rios and stock up on cabbage rolls, chocolate dipped cookies and anything else yummy we could find. Unfortunately that cafe is no longer in Paisley but there are lots of new shops at which to stop.
The Elora Soap Company is one to visit as well as the Big Dipper Bakery & Chocolatier.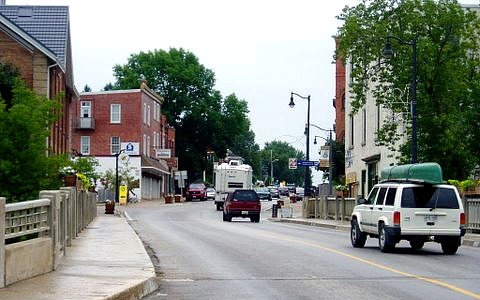 For the more outdoorsy types Paisley has a thriving canoe and kayaking community.
The Saugeen River provides a picturesque backdrop for novice caonoers and kayakers alike.
You can canoe from downtown Paisley to the north end of town in about an hour. This is part of the Saugeen River route which extends from Hanover to Southampton and would take about 3 to 4 days in its entirety to canoe.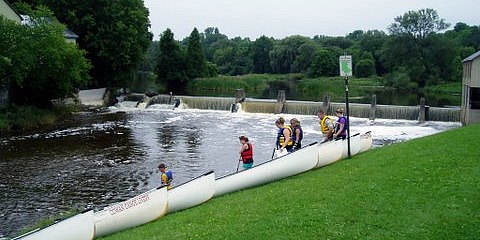 Paisley is also well known for its annual Beef Fest.
Held annually at the end of July, it is all about celebrating local beef farmers via Beef BBQ.
Events include a Beef Cook off, "The Bull" Steak Eating Contest as well as a slo-pitch tournament and an antique car show.
Paisley stopped being just another town on the way to the cottage many years ago.
Stopping to see the salmon spawning or catching a glimpse of the Rubber Dukie Race, there are many fun things to see in this slice of small town Ontario.
Return HOME from Paisley Ontario.