Cottage Country Golf; where to golf when exploring Ontario's Cottage country
For the golf enthusiast figuring out where all the cottage country golf gold is situated is pretty important as it is one of the perks of being on vacation.
My son in law is an avid golfer and when he visits us at the cottage he usually plays at least one round at the local golf courses.
He likes to get an early morning start at the golf course so that he still has day left to hit the beach and enjoy time at the cottage with his family.
No matter where you decide to cottage you will be able to find a hacker course at the very least, but there are many prestigious cottage country golf courses that avid golfers will enjoy.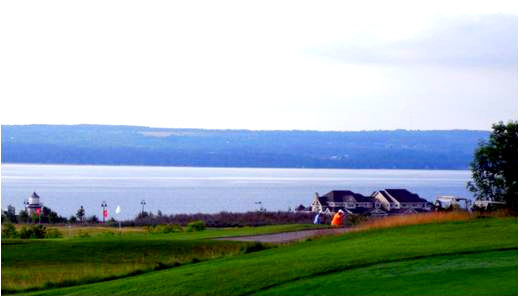 If you are looking for some golf courses near the Bruce Coast try the following.
Saugeen Golf Club
- found on Bruce Road 3 as you approach Southampton. Made up of three 9 hole courses, one of which is designed by Stanley Thompson this is a popular course that books up fast in the summer months.
Pipers Glen
- This is a links style course that is relatively new in Port Elgin. Although it might feel a bit like playing in a farmers field, it is relatively easy to get a tee time.
Chippewa
- My kids took lessons at this course when they were tweens. It is across the river on the North Shore of Southampton and is a great family course but expert golfers might find it a big un-challenging.
Cobble Beach
- This Owen Sound golf course has a beautiful Georgian Bay setting and has already made quite the reputation for itself. Voted one of the top 10 best new courses in the world by Travel & Leisure among other accolades.
Owen Sound Golf Course
- This course is a historic gem. Dating back to the 1920s and designed by Stanley Thompson this is another beauty that offers a challenge to the avid golfer.
If you are a Club Link member and want to golf while you are at the cottage you will have to head over to Lake Simcoe & Muskoka, both of which have a multitude of other courses to choose from as well.
Muskoka Golf
- There are 3 Club Link courses in the Muskokas, of which Lake Joseph is a full resort. Rocky Crest and Lakeview Golf CLub round out the Club Link selection in this area, but there are 15 plus courses in the Huntsville area and another 20 plus courses surrounding Lake Muskoka and Lake Joseph. This is definitely a golf concentrated area!
Collingwood
- Although better known for skiing in the Winter, Collingwood doubles as a golf destination in the summer. Two of the better known courses are Monterra and Blue Mountain Golf & Country Club, but there are no fewer than 15 courses between Meaford and Wasaga Beach.
Lake Simcoe
- Because of its close proximity to Toronto on the southern side of Lake Simcoe it boasts no fewer than 10 Club Link courses within close driving distance. But of course there are many other courses that range in difficulty surrounding the whole of Lake Simcoe.
Your best bet in finding a course around where you are heading to the cottage this summer is to ask around when you find other golfers. If you like to plan ahead you could check out your cottage country golf area through an Ontario Golf Directory.
Return HOME from Cottage Country Golf.